Introduction
The new Harley-Davidson Custom Vehicle Operations (CVO) Fat Bob rolls with a high-performance rumble and the flash of custom chrome. From its beefy front tire to its twisted Tommy Gun exhaust to the arrogant flip of its Bobtail rear fender, the 2009 CVO Fat Bob will stake its claim to a wide stretch of asphalt.Below the distinctive Fat Bob fuel tank that gives this model its name rests the largest engine produced by Harley-Davidson, the Screamin' Eagle Twin Cam 110. Available only on CVO models, the Electronic Sequential Port Fuel Injection (ESPFI) Twin Cam 110 produces 114 ft. lbs. of torque at 3500 rpm and features a heavy-duty, self-adjusting clutch with hydraulic actuation and the 6-speed Cruise Drive transmission. The Heavy Breather intake with exposed high-flow conical filter features a special chrome end cap, a "110 SE" emblem and a sculpted trim ring. The CVO Fat Bob-exclusive Tommy Gun 2-1-2 exhaust snakes around the engine before exiting through chrome blunt-cut mufflers. The header pipes, which are exposed through the exhaust shield slots, are finished with a black coating. The powertrain is finished in CVO-exclusive granite powdercoat with chrome covers, and features new a "110 Cubic Inch" badge on the chrome billet derby cover.
Ride quality & brakes
3 out of 5 (3/5)
The Softail family contains everything from the Breakout to the Heritage and as such Harley have made a 'platform' tubular steel double cradle chassis that can be altered with minimal effort through different head angles or a choice of swingarms to suit the intended bike's role in life. All-new for 2018, the Softail range has a 'hardtail' look of a solid back end but actually contains a monoshock under the seat area (previous generations had twin shocks under the transmission).
As well as being a claimed 65% stiffer than before, the new chassis also uses the engine as a stressed member and the swingarm is stiffer. Why is this important? Because it allows the Fat Bob to actually handle fairly well. Unlike most Harley models, the sporty nature of the Bob sees it come with Showa inverted forks with dual bending valve technology, but sadly no adjustment which is a shame as they are a little crude in their damping.
Far from a lightweight bike, the Bob's 296kg weight and fat 16-inch wheels is initially a bit daunting as it does give the bike a strange feeling and a slight reluctance to turn into bends, however once you get used to muscling it about you can actually build up a bit of pace and although limited by ground clearance, bends are certainly not something to be feared.
Верный традициям
Крутящего момента столько, что трогаться можно и со второй, и с третьей передачи; фирменные пульсации чувствуются, но никакого зуда нет и в помине даже на высоких оборотах. Жаль, конечно, что услышать мотор можно лишь на полностью отрытых дросселях, но это лечится заменой штатного выпуска на что-то более подходящее такому громиле. Рычаг сцепления стал мягче, но все равно требует крепкой мужской руки, зато коробка работает как часики – переключения четкие, никакой расхлябанностью и не пахнет.
Управляемость на фоне предыдущих представителей семейства Dyna просто великолепная: тяжеловесность ушла в небытие, да и с жесткостью шасси отныне полный порядок – спасибо толстым трубам вилки и новому маятнику. Однако широченные шины остроте реакций не способствуют, да и низкие дуги довольно рано начинают стираться об асфальт, поэтому на фоне быка Fat Bob конкуренты кажутся проворными антилопами.
Стало больше и тормозов: то ли механизмы сделали такой шаг вперед, то ли общее «похудение» конструкции сказалось, но о необходимости излишне давить на рычаги говорить уже не приходится. А вот короткоходные подвески даром что стали более упругими, с трудом отрабатывают даже «лежачие полицейские». Хотя на ровном покрытии мотоцикл и стал несколько комфортнее, чуда, увы, не произошло, а потому на неровностях лучше не разгоняться.
Это же касается и езды в дождь – обилие крутящего момента в сочетании с «дубовой» резиной благоприятствует сочным пробуксовкам как при разгоне (вплоть до третьей передачи), так и при выходе из поворотов. Конечно, если хватает умений, такими пируэтами можно наслаждаться бесконечно, однако неподготовленного пилота подобные выходки, не свойственные мотоциклам конкурентов, могут и напугать, так что лучше не расслабляться.
Как бы то ни было, фанаты ушедшего со сцены семейства Dyna и перерожденного Softail могут спать спокойно – новый Fat Bob остался верен идеологии бренда и сохранил все, за что мы любим Harley-Davidson. При этом мотоцикл стал лучше, особенно по части управляемости и динамики, а что касается дизайна… Он будет вызывать споры еще не один год, зато никого не оставит равнодушным. Как и положено настоящему Fat Bob. 
Технические характеристики Harley-Davidson Fat Bob

Длина х ширина х высота, мм

2340 х н.д.

Колесная база, мм

1615

Высота по седлу, мм

710

Снаряженная масса, кг

306

Объем бака, л

13,6

Тип двигателя

4-тактный 2-цилиндровый 8-клапанный OHV

Рабочий объем, куб. см

1745

Макс. мощность, л.с./об/мин

93,8/н.д.

Макс. момент, Нм/об/мин

145/3500

Система запуска

электростартер

Система охлаждения

воздушно-масляная

Коробка передач

механическая 6-ступенчатая

Главная передача

ремень

Подвеска передняя/задняя

нерегулируемая вилка перевернутого типа/двусторонний маятник с регулируемым моноамортизатором

Тормоза передние/задние

дисковые, два диска/один диск

Шина передняя/задняя

150/80 R16 / 180/70 R16
Love at First Sight?
Upon my arrival I instantly spot her from across the parking lot playing it cool and aloof off in a shady corner. She's a beautiful black model, hailing from Milwaukee, with a strong build and eye-catching curves everywhere I want them. I instantly sense just what a wild ride I'm in for.
Her reputation I'd already heard through the grapevine as being too sporty (for some), rebellious, unconventional, and rambunctious to the core… yet surprisingly, courteous enough to meet and charm whenever asked to do so.
But that wasn't that kind of charming I'd come looking for.
Near as I can tell, her Daddy was a Yamaha V-max and her Mom a Fat Boy. "Otosan" left when she was too young to remember because the relationship brought his family dishonor, so she grew up on the wild side fathered by her favourite Uncle, Road King, instead.
I imagine she lived the Harley party life for a while but longed for something more. As soon as she could, she ran away from the circus to attend a well respected college and earn a degree in mechanical engineering. Always dressed to kill in black leather and designer jeans, this cheeky vixen wowed her school mates by belting out Pantera songs every Wednesday eve at Campus Karaoke nights. She is half Japanese, after all.
With an intro like that you may expect to hear numbers like 36/24/36 next, but those numbers don't give context to the backstory such a machine deserves. How about these numbers – 114 cubic inches, 118 foot lbs of torque @ 3500 rpm and 676 lbs wet – do they grab your attention?
There's really no connection to the V-Max… or is there? That name is all wrong, though. Fat Bob? More like P.H.A.T Babe!
Takeaway
Both the Harley Davidson Dyna Fat Bob & Softail Fat Bob are masterpieces of their era. The
Harley Davidson Dyna has been discontinued since 2017. They are considered by many riders to be heavyweight cruisers, therefore making them unsuited as beginner-friendly motorcycles. On the other hand, the HARLEY DAVIDSON SOFTAIL FAT BOB is a continuous model with better resale value but is also more expensive as well. For taller and heavyweight riders, the Harley Davidson Dyna Fat Bob may seem like a better option while the Softail Fat Bob weighs slightly less than the Dyna, making it better suited for shorter riders.
Chris Cope and Leah Misch both take on Harley's overhauled sporty Softail
When Harley-Davidson pulled the covers off a claimed 17 new models a few months ago it may have unintentionally blunted the impact of that announcement with the sheer quantity of bikes being presented. Also, perhaps the not-really-that-new nature of some of the bikes (eg, Street Glide CVO) may have quieted folks' enthusiasm for the stuff that really was worth getting excited about.
READ MORE: 2018 Harley-Davidson Slim – First Ride | RideApart

Point is: Harley's complete overhaul of the Softail lineup (as well as its decision to scrap the Dyna platform) was a really, really big deal. And perhaps no single model best encapsulates the revolutionary nature of that action more than the 2018 Harley-Davidson Fat Bob.
Placed side by side against the 2017 Fat Bob, pretty much the only thing that's remained the same is the name. The 2018 model has a different frame, swingarm, engine, suspension, and aesthetic. It is lighter and slimmer. It is equipped with different tech. Even the tires are different. This is most definitely not a case of the same ol' same ol'. In fact, there is an argument to be made that the 2018 Fat Bob (along with the 2017 Street Rod) is in the vanguard of a new and different direction for Harley-Davidson.
With a bike this important, we felt it was a good idea to have two people throw a leg over the saddle. First up was RideApart contributor Leah Misch, who rode the bike in California's San Gabriel mountains in late August. Roughly a month later, RideApart Director Chris Cope, hopped aboard in the mountains of Catalunya.
Handling
When the V-Rod and its variants came out I thought they were going to be the Harley "sport bike", and no disrespect meant, but they just didn't live up to that. It was cool looking, fun to ride, and powerful, but I always found it too long and raked out for my 5'8" reach to ride it aggressively.
Not the Fat Bob. It's maybe not at the sport bike level of handling either, but it's getting there thanks to the amount of ground clearance, 28 degrees of rake, and more upright riding position. The pegs are more middle mounted, too, so I felt very comfortable throwing it into tight turns and launching out the other side with great gusto.
Everything comes together so nicely as a package that the Bob just begs the rider to flog it. It's a fun loving adrenaline junkie dressed in some badass blacked out aluminum and sweet flat black paint.
The footpegs are mounted high enough that, as much as I wanted to scrape them, I never found a corner that would let me do it. I've scrubbed my fair share of boards and pegs on plenty of other Harleys, but this one just didn't need to be leaned over far enough for me or anyone else who rode it after to touch ground.
The overall length of the bike feels quite compact, inspiring lots of confidence and making it pleasant to ride anywhere- be it highway, twisties, or in the city.
This bike likes to lie about its weight to the rider. It doesn't feel much heavier than a 500 lb machine to me. The weight is set down low in the chassis perfectly- a common trait with most Harley cruisers.
The suspension felt stiff and tight, but still with enough cushioning to absorb the bumps. If you want more or less, just reach down and twist the adjuster knob behind your right leg.
The all new monoshock in the rear is noticeably firmer and better than the old softail dual shocks, and much easier on the eyes than the Dyna twin spring design.
The dual disc front brakes are excellent (as you would expect even on a 670 lb bike). I think I may have had the ABS activate once on a sudden stop for a red light I almost blew through… very useful indeed on what I'm considering classing a "hooligan" bike. The Fat Bob makes you ride it like a bat out of hell, full-on Meatloaf style.
The Milwaukee Eight 114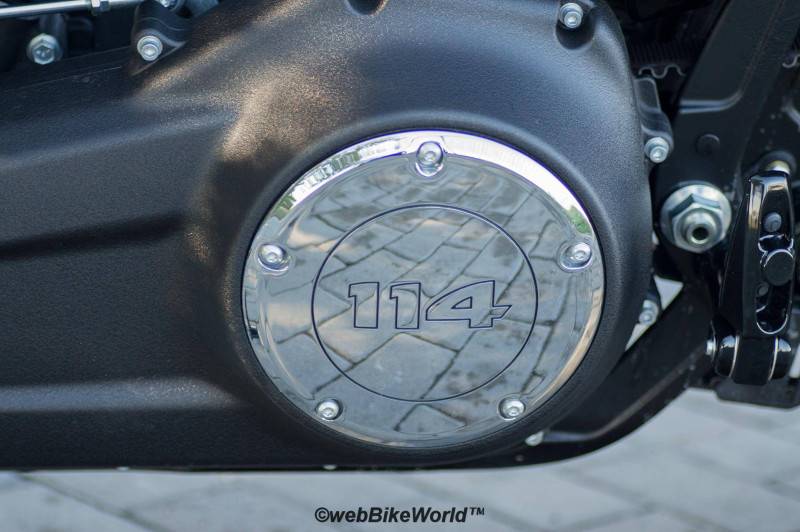 These new Milwaukee engines are so, so, SO smooth compared to the old twin cam engines. This smoothness is enjoyed thanks to counterbalancers, double the valves and double the spark plugs in the heads (compared to the prior engines). This civilized composure is more akin to Japanese and European cruisers (much to the disappointment of many of the Harley Faithful).
At low idle the engine has a completely different sound from its twin cam predecessor. Mainly what you'll hear is a pleasant little "wao—wa-wa—-wa-waao" kind of top end sing-song that somehow Harley has managed to make slightly irregular instead of sewing machine steady as you would hear from a Japanese or European cruiser.
This is a nice touch and perhaps an acknowledgement to the traditional sound of the old school Evolution engine's "potato—–potato—po…… TAto——po-tato" cadence Harley fanatics hold so near and dear to their hearts.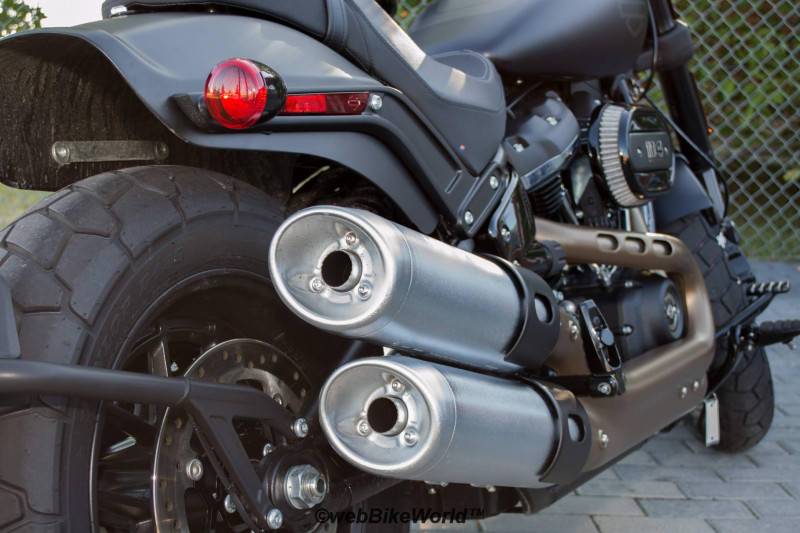 Crack the throttle open on the 114 and you'll be rewarded with a pleasant and HOG-worthy "snort-crack-growl", announcing to anyone nearby the Milwaukee Eight is definitely a HD 45 degree descendant. I can't wait to hear a 114 with a set of Vance and Hines pipes on it.
Loud pipes can save lives, but mostly they're just music to my ears.
Incidentally if you really feel 114 cubic inches aren't enough displacement, there is a 117 kit optional from factory.
User Reviews of Harley-Davidson Fat Bob
Write a Review
4.75/5
Very Good
based on 8 reviews
All (8)
Features (1)
Specs (3)
Exterior (1)
Seats (1)
Mileage (1)
Engine (1)
A Classy and Overwhelming Experience with Harley-Davidson

Being a no.1 fan of Harley-Davidson fat Bob, I got the chance to buy one for myself around a year ago. The most important thing I have noticed about…

Read More

A

Awang
Jun 13, 2023 for Harley-Davidson Fat Bob

The new-age Bobber

Bobbers always have had their fan following. The Harley-Davidson Fat Bob is the best Bobber in its class. The styling of the bike is rather unique….

Read More

I

Imran
Jan 11, 2023 for Harley-Davidson Fat Bob

True beauty

Just like any other bike enthusiast, I, too, have also been wanting to own Harley Davidson. And there is no shame accepting it as Harley is worth the…

Read More

"

"Nijat "
Feb 03, 2022 for Harley-Davidson Fat Bob

Fun to ride

I don't remember any instance when I have not enjoyed sitting on the Fat Boy. This motorcycle is truly fun to ride and satisfies you to the core if…

Read More

H

husaini
Nov 15, 2021 for Harley-Davidson Fat Bob

Sturdy Chassis!

One of the craziest motorcycles I've ever owned is a Harley Davidson Fat Bob. When I originally fell for this bike, it was the bold design that drew…

Read More

I

Istiqlal
Sep 15, 2021 for Harley-Davidson Fat Bob

Masculine Bike

I have always had a soft spot for big retro bikes and had always wanted to own one after I grew up. My father knew that and gave me the Harley…

Read More

I

Imran
Jun 07, 2021 for Harley-Davidson Fat Bob

Comfort and masculinity at its epitome

I have searched through lots of models from Harley Davidson but this is the first one which had a muscular structure with the exhaust pipes easily…

Read More

M

Mishkat
Dec 03, 2020 for Harley-Davidson Fat Bob

One of the greatest motorcycles ever built

Harley Davidson Fat Bob is one of the most menacing motorcycles I have ever owned. It was the aggressive design of this bike which made me fall for…

Read More

A

Alberto
Nov 21, 2019 for Harley-Davidson Fat Bob
Introduction
Among the bike's top features is the one that nobody could possibly miss, the beating and powerfully sounding heart also knows as the Twin Cam 96 engine. The bike's centerpiece and a work of art itself – the motor – is fuel injected so it will not only provide the unmistakably grunty engine torque of 92 ft. lbs. but ensure low fuel consumption and great responsiveness. There's also a sixth gear and forward (or mid, it's optional) mounted foot controls so that you'll be riding in style down the highway and obtain great mileage while on it too.The low seat height of only 26.1 inches might manage to make the Fat Bob look like the ride of everyone, but once you become aware of the massive stature and 703 lbs wet weight (not always an advantage), it will be once again clear that Harleys are destined to serious riders with serious demands from their bikes. Also, riding on big tires with an aggressive tread pattern mounted on 16-inch Slotted Cast Aluminum wheels, the Fat Bob is a cool and confident ride.New features include high performance chrome-covered coil-over rear shocks and silver-faced speedometer with range countdown while the two-into-two exhaust and flat drag bars might seem like being all-new, but these are defining the Fat Bob style ever since. Rake and trail (29° / 4.92 in.) is more aggressive than on the rest of the Dyna models we've covered yet. That, together with the low center of gravity is supposed to keep on ensuring the good cornering abilities that the Fat Bobs are known for. The biggest disadvantage is the fact that a windscreen and a pair of saddlebags will never fit the Fat Bob well and it's almost a shame hitting the open road without those. But, the Boulevard is where this bike will most likely be taken and that's always the proper environment to show off without catching a cold or needing any luggage whatsoever.
History
In 1979, Harley-Davidson had introduced the FXEF Fat Bob motorcycle derived from the Super Glide series. This bike is famous to have "donated" its fuel tank to most models of the series and retains the very same original lines of this piece to this day. After production of the Super Glide was stopped back in 1985, the Fat Bob became base model of the series it once came up to complete and that's when most of the first generation bikes were sold.2008 saw the introduction of the all-new FXDF Fat Bob, a machine that was practically reborn just so that the modern Dyna lineup would meets various riding demands. This is also when the aggressive drag style was approached and when the engine together with all goodies of modern technology ended up reflecting the best of it so far.
SIMILARITIES & DIFFERENCES: DYNA FAT BOB & SOFTAIL FAT BOB
| Key Similarities | Key Differences |
| --- | --- |
| Both have the same handlebars | The Softail Fat Bob has a horizontal LED headlight, while the Dyna Fat Bob has two round halogen headlights |
| Both have the same side mirror position | The Softail Fat Bob has a matte black fairing around the headlight, while the Dyna Fat Bob does not |
| Both have two-into-two dual exhausts | Both have differently designed fuel tanks |
| Both have the same seating position for the rider and passenger | The Softail Fat Bob has a smaller fuel tank than the Dyna Fat Bob |
| Both have a speedometer on the fuel tank | The Softail Fat Bob has a hidden mono-shock at the rear, while the Dyna Fat Bob has dual shocks at the rear |
| Both have a six-speed belt drive train system | The Softail Fat Bob has a dual round LED tail light |
| Both have dual disc brakes at the front and a single disc brake at the rear | The Softail Fat Bob has its license plate at the side, while the Dyna Fat Bob has its license plate exactly beneath the tail light. |
| Both have the same sized rim at the front and rear | The Softail Fat Bob has a single cap on the fuel tank, while the Dyna Fat Bob has two caps on the fuel tank. |
| Both have the same size rear tire | Both have differently styled dual exhausts. |
| | The Softail Fat Bob's front tire is slightly thicker than the Dyna Fat Bob's front tire. |
| | Both have different footrest positions for the rider and passenger. |
Боббер
Ещё один важный аспект боббера — и ещё более сложный в понимании — это представления о традициях бренда. Боббер — это мотоцикл, в эстетическом плане опирающийся на прошлое или хотя бы имеющие в дизайне иллюзии к давно ушедшим, старым добрым, каноничным и прочим ламповым временам. Но и это ещё не всё: во времена, когда боббер просто брали и делали из серийного мотоцикла, его строили не замшелые консерваторы, а грамотные творцы, художники болгарки и скульпторы по металлу, которые способны были из двух идентичных стоковых аппаратов сделать два совершенно разных боббера под нужды двух разных владельцев. Итак, каноничный боббер — это ретро-авангардный сильно-облегчённый эндуро-круизёр, в плане дизайна основанный на эстетических традициях послевоенных лет и на манере снимать все детали, которые можно снять для облегчения веса и увеличения скорости.
Заводской боббер
Мир меняется, и сегодня заводской боббер — это эстетично облегчённый круизёр со средним положением подножек и соло-сиденьем. И даже такое определение не совсем универсально, потому что подножки Scout Bobber скорее можно назвать вынесенными вперёд, чем средне расположенными, так что неудивительно, что у каждого бренда свои представления о том, что они называют боббером. И что интересно, каждый вариант находит своих почитателей.
Каждый из трёх брендов по-своему относится к вопросам эстетики, и у каждого из них имеется своё наследие длиной более чем в век: Indian начинается в 1901, Triumph в 1902, а Harley Davidson в 1903 году. Harley — единственный из тройки, который действительно производил мотоциклы всё это время, но вся троица может на совершенно законных основаниях заявлять, что была частью движения бобберостроения.
Перед тем, как мы перейдём к вопросу, какой из брендов сумел сделать наиболее каноничный боббер, давайте вспомним, с чем мы вообще имеем дело:
FAQ
Several changes were made to the
HARLEY DAVIDSON SOFTAIL FAT BOB when it replaced the Dyna Fat Bob. The changes made to the Harley Softail Fat Bob are provided below:
The Softail Fat Bob has a more aesthetically pleasing headlight and tail light.
The Softail Fat Bob's chassis and design were changed to make it look more like an evolved Dyna Fat Bob model.
The Softail Fat Bob has a hidden mono-shock at the rear, while Dyna Fat Bob had dual shocks at the rear.
The Softail Fat Bob has a bigger engine, can produce larger torque and has more horsepower than the Dyna Fat Bob.
9.2 What is the difference between Dyna and Softail?
Both Dyna and Softail are popular Harley Davidson series. The major differences between these two Harley series are discussed below:
Softail models have hidden mono-shock at the rear, while the Dyna models have dual shocks at the rear.
Most Softail models have a solo seat, while the Dyna models have dual seats.
Softail is a Harley series still in production, therefore it is more expensive and has more accessories or features than Dyna models.
Most Dyna models have V-twin engines, while most Softail models have Twin Cam engines.
Most Dyna models handle well when turning corners compared to Softail models.
9.3 Why is the Harley Davidson Dyna Fat Bob so underrated?
The main reason the
HARLEY DAVIDSON DYNA FAT BOB is not very common is because of its overall look. The Dyna Fat Bob's front and back have received mixed reviews. In terms of specs and riding experience, many riders consider the Harley Davidson Dyna Fat Bob as one of the best Dyna you can buy at a reasonable price. But due to its looks, many riders prefer more attractive-looking Harley models. However, many enthusiasts still buy and modify this motorcycle to better suit their needs.
9.4 Why is the Harley Davidson Softail so expensive?
Most Harley Davidson Softail models are expensive for the following reasons:
Viking Trident XL Motorcycle Sissy Bar Backpack for Harley Davidson

$175.49$129.99

Shop Now

Viking Voyage Large Motorcycle Sissy Bar Backpack for Harley Davidson

$229.49$169.99

Shop Now

Viking Renegade Large Motorcycle Sissy Bar Bag for Harley Davidson

$161.99$119.99

Shop Now

Viking Patriot Medium Motorcycle Sissy Bar Backpack for Harley Davidson

$161.99$119.99

Shop Now
They are still in production, so they are not considered outdated Harley Davidson models. Therefore, they keep their monetary value.
They have a bigger and more reliable engine with extra features or accessories.
There are a lot of aftermarket parts available for Softail models.
Harley-Davidson
Harley-Davidson- американский производитель мотоциклов, базирующийся в городе Милуоки, штат Висконсин. Компания производит и продаёт тяжёлые мотоциклы, предназначенные для езды по шоссе. Особенность маркетинговой политики Harley — создание сообщества людей, лояльных именно к этой марке. Помимо мотоциклов, компания выпускает множество товаров широкого потребления с эмблемой Harley-Davidson. Одежда, обувь, мебель, посуда, выпускаемые под этой маркой, позволяет создать своеобразный стиль жизни от Харли, который делает мотоцикл по-настоящему культовым. Также каждый владелец любого из мотоциклов Харли имеет возможность вступить в созданное брендом сообщество владельцев мотоциклов этой марки (H.O.G. — Harley Owners Group). На сегодня H.O.G. — самый многочисленный клуб любителей мотоциклов в мире, насчитывающий более миллиона участников.
В 2008 году компания выкупила у семьи Кастильони 100 % акций компании MV Agusta Group, которая производит мотоциклы под брендами MV Agusta и Cagiva/
Блог им. Harley_Hero → Harley-Davidson запускает лимитированные наборы для персонализации
Желание владельцев персонализировать свой байк, сделать его не таким как у всех, позволяет производителям мотоциклов и аксессуаров зарабатывать приличные деньги. В этом аспекте владельцев H-D вообще можно считать «золотой жилой» для американской компании: экипировка, аксессуары, тюнинг, сувенирная продукция с логотипом Harley-Davidson – товары, которые всегда пользуются хорошим спросом. Для тех владельцев мотоциклов, кто желает придать своему мотоциклу максимум индивидуальности, но не желает выходить за рамки оригинального каталога Harley-Davidson и обращаться к кастомайзерам, компания приготовила интересный сюрприз – лимитированную серию расцветок. Выделиться из толпы владельцу помогу три новых цветовые схемы — Grandstand Limited, Tagged Limited и La Jolla Limited.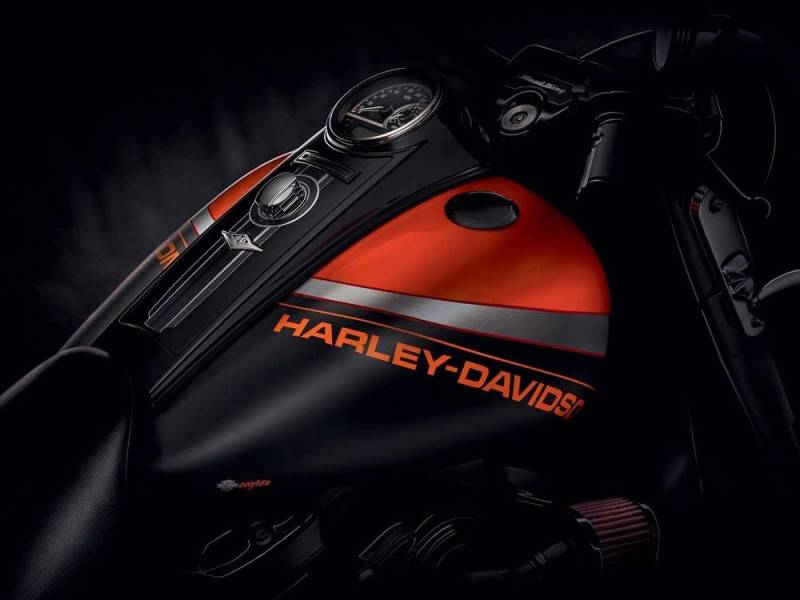 Reliability & build quality
3 out of 5 (3/5)
A lot of Harley owners tend to cherish their bikes and if they are cleaned regularly, not ridden much in the wet and generally cared for the build quality seems acceptable. However should you get a bit behind or let things slip the Fat Bob starts to look very second hand very quickly, which is a real shame on a bike that costs so much.
report that the paint finish is very poor indeed with paint rubbing off on areas where your knees touch and also the engine shedding its finish. Not only that, corrosion on exposed metal components seems rife if the bike hasn't been treated to a lot of anti-corrosion spray. One owner has even has the clocks misting up and the fuel cap's lock fail. When you talk to Harley dealers they say a big problem is owners cleaning their bikes and then putting them away wet, which allows the water to pool and corrosion sets in, however a slightly low level of build quality is also certainly to blame.
Conclusion
Forget the Harley badge, or what you've heard from Fast Blokes Magazine, this is simply a snortingly great ride. It handles well, brakes well and is as reliable as any other bike. Fat Bob is a friendly, comfortable and surprisingly naughty fella, with performance that'll keep you aviating along the blacktop ahead of the cars, even if you won't leave a trail of fire and melted asphalt behind you. If your riding is about escape from the mundane and everyday; if you want to treat yourself to something gorgeous to look in a delightfully pointless and wanton sort of way; if you've a desire to feel the air rushing past your head and if you like the sound of a real engine, then the Harley is a good choice. Cobblers to the critics – chuck Fast Blokes on the fire – this bike is day-long fun.
What's it all about?
The ethos of the Fat Bob is that of a everyday street motorcycle, but one that prefers to just ride rather than to race or cruise. The bike enjoys travelling through the urban playground, seeing and being seen, rather more than it does than racing between traffic lights or around the ring road. No surprise there, but it also likes to remind you that you're on a real bike – somethings with a raw edge. The bike looks good in the urban role, but it's not just about pose value.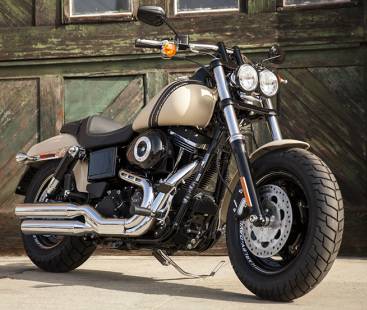 Image: Harley Davidson
The Fat Bob is less about owning a brand and much more about riding a real world, practical motorcycle. It starts, goes and stops like any modern bike, has decent suspension and features a slick 6 speed gearbox. More than that, it handles surprisingly well, deals with corners easily and has enough grunt to overtake all but the sportiest of cars. It's mainly just  the growl and vibration the Milwaukee power plant that let you know this is still in the broad nuts and bolts tradition of the Harley.
2023 Harley Davidson Fat Bob 114 Specifications
DIMENSIONS
LENGTH
92.1 in.
SEAT HEIGHT, LADEN
27.7 in.
GROUND CLEARANCE
4.7 in.
RAKE
28
TRAIL
5.2 in.
WHEELBASE
63.6 in.
TIRES, FRONT SPECIFICATION
150/80-16,71H,BW
TIRES, REAR SPECIFICATION
180/70B16,77H,BW
TIRE, TYPE
Dunlop Harley-Davidson Series, bias blackwall front and rear
FUEL CAPACITY
3.5 gal.
OIL CAPACITY (W/FILTER)
5 qt.
WEIGHT, AS SHIPPED
653 lb.
WEIGHT, IN RUNNING ORDER
675 lb.
ENGINE
ENGINE
Milwaukee-Eight 114
BORE
4.016 in.
STROKE
4.5 in.
Maximum Power
93 HP @ 5020 rpm
DISPLACEMENT
114 cu in
COMPRESSION RATIO
10.5:1
FUEL SYSTEM 3
Electronic Sequential Port Fuel Injection (ESPFI)
EXHAUST
2-into-2 shorty dual; catalyst in muffler
PERFORMANCE
ENGINE TORQUE TESTING METHOD
J1349
ENGINE TORQUE
118 ft-lb
ENGINE TORQUE (RPM)
3500
LEAN ANGLE, RIGHT (DEG.)
31
LEAN ANGLE, LEFT (DEG.)
32
FUEL ECONOMY 5
47 mpg
DRIVE TRAIN
PRIMARY DRIVE
Chain, 34/46 ratio
GEAR RATIOS (OVERALL) 1ST
9.311
GEAR RATIOS (OVERALL) 2ND
6.454
GEAR RATIOS (OVERALL) 3RD
4.793
GEAR RATIOS (OVERALL) 4TH
3.882
GEAR RATIOS (OVERALL) 5TH
3.307
GEAR RATIOS (OVERALL) 6TH
2.79
CHASSIS
FRONT FORK
Single cartridge 43 mm inverted with aluminum fork triple clamps; triple rate spring
REAR SHOCKS
Hidden, free piston, coil-over monoshock; 56mm stroke; toolless hydraulic preload adjustment
WHEELS, FRONT TYPE 9
Denim black, Structure cast aluminum with laser etched graphics
WHEELS, REAR TYPE 9
Denim black, Structure cast aluminum with laser etched graphics
BRAKES, TYPE
Front and rear black, Split 7-spoke floating rotors
BRAKES, CALIPER TYPE
4-piston fixed front and 2-piston floating rear
ELECTRIC
LIGHTS (AS PER COUNTRY REGULATION), HEADLAMP, TAIL/STOP/FRONT SIGNAL LIGHTS 8
All LED, low beam, high beam, and signature position lamp, Incandescent bullets
GAUGES
4-inch analog tachometer with digital speedometer, gear, odometer, fuel level, clock, trip and range indication
Milwaukee Eight
We loved the new Milwaukee Eight engine when it was introduced in the Touring models last year.
It is mechanically quieter, more powerful, more economical, cooler and smoother.
The Touring engine, rubber mounted in the frame, was balanced 75% to retain some character.
Now that it is hard-mounted to the all-new Softail frame, it has been 100% balanced with a secondary balancer.
Harley doesn't mention power, but torque in the 107 is slightly down from 152Nm at 3250rpm to 145Nm at 3000 revs probably thanks to the extra balancing.
There is also the option of the 114 engine with 155Nm of torque at 3000 revs, down from 168Nm at 3250rpm in the CVO Touring models.
However, with 11kg shaved off for a running weight of 306kg, it's a lot lively performer than in any of the Touring models.
It doesn't have that comical shaking character character of the old Dyna's unbalanced engine that vibrated madly on its rubber mounts.
Instead, it's smooth, sophisticated and still revs hard.