Why Each Company Has Their Own Die-Hard Fans
To understand where the passion on either side comes from, we first must look back at the early 20th century. Both Harley-Davidson and Indian modeled their first motorcycles after the bicycles that had been used to start the entire motorcycle movement, albeit with stiffer metals and bigger tires to be able to absorb the bumps and ruts of 1900's roads. This was all well and good, and both companies respected each other's successes, but their paths diverged just two years after they started production.
In 1905, Indian Motorcycles built its very first V-twin factory race bike. For the better part of the next decade, until World War I, Indians were branded as "America's fastest motorcycles," and backed up that claim with multiple race wins in all styles of competition, as well as setting multiple speed records. This led to the more adventurous early riders to gravitate towards Indians as the more exciting, potentially more dangerous motorcycle.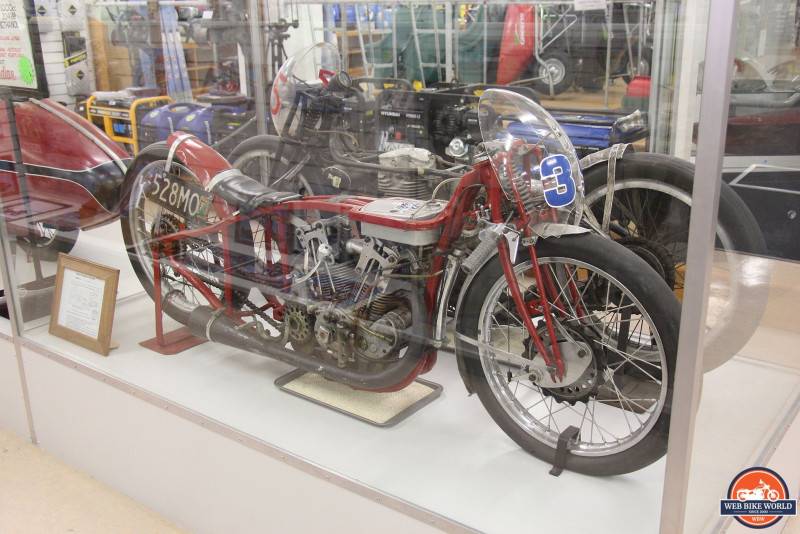 Bert Munro's 1920 Indian Motorcycle that set a world land speed record at 183.59 MPH for the under-1,000cc class at the Bonneville Salt Flats. Image via Wikimedia Commons
Meanwhile, in 1905, Harley-Davidson was still being run out of the backyard machine shop of Henry Melk, friend to both William Harvey and Arthur Davidson. Through some very suave marketing, placing ads in journals such as Automobile and Cycle Trade, they started to move more and more motorcycles, to the point that the first dealership opened, run by Carl H. Lang in Chicago. This led to a small boost in sales, and with the money earned, plus some investment from interested parties, the first Harley-Davidson factory opened in 1906 on Chestnut Street, Milwaukee, Wisconsin.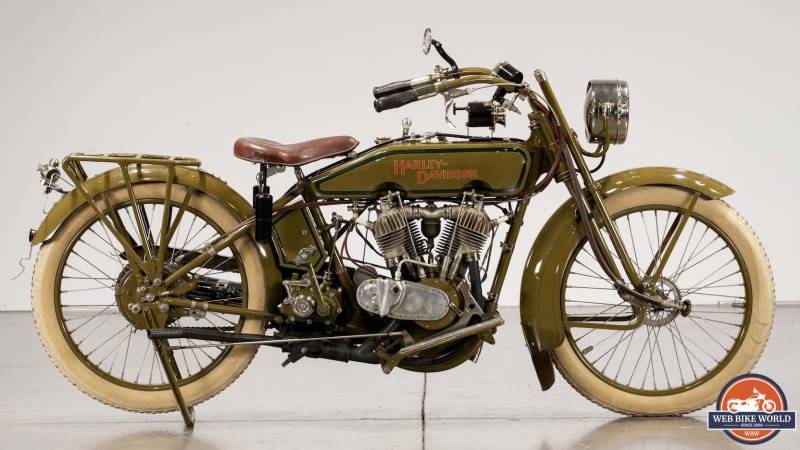 A 1920 Harley-Davidson Model J Twin, a motorcycle meant for a more "refined" rider than those "unrefined" Indian devotees. Image via Mecum Auctions
Both companies doubled down on their respective angles throughout much of the early 20th century, with Harley-Davidson building more comfortable, more utilitarian motorcycles that were marketed to the more affluent customer, while Indian focused on speed, power, and the fact that their motorcycles were the preferred race bikes for things such as flat-track events. Through World War I, the Great Depression, and World War II, both companies were able to provide the US government with military bikes, and introduced more affordable models in the inter-war period for those down on their luck.
This is, realistically, what drives the enthusiasts today for each brand.
The Harley-Davidson fanbase is comprised mostly of those that are seeking more comfort and longer-distance rides. It's also worth noting that a Harley, despite all the brand's controversies, financial difficulties, and seeming to change their CEO every three months, is still seen as a status symbol—a sign of prestige and affluence. Harley also benefited from cultural appreciation, being the bike of choice for the sudden counter-culture movement in the 60s and 70s, with movies like Easy Rider cementing their image of rebellious but prestigious glamor.
The Indian fanbase, on the other hand, is a much younger group, usually in their 30s and 40s, who are looking less for a status symbol and more for a good, powerful, reliable American-made motorcycle that has serious grunt down low. This is where the Indian motorcycles of today shine, as they are discreet beasts with a ton of torque and not as much "badge premium" (which Harleys can suffer from).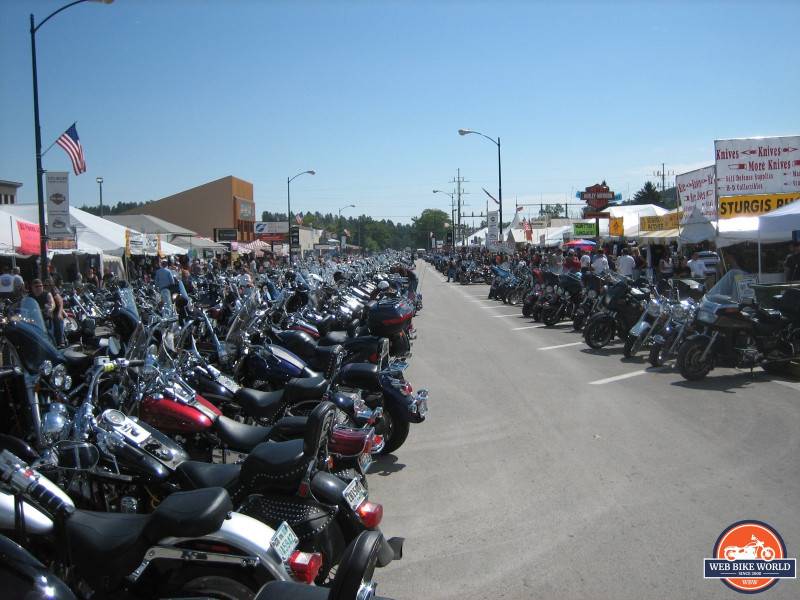 Literally the only event where you can find Indians and Harleys parked close to each other, at Sturgis Bike Week. Image via Wikimedia Commons
Both groups are, in their own way, completely on the point with their arguments. Yes, Harley-Davidson did more for the two World Wars than Indian did, but they both sent bikes for the troops to use. Indian held, and still does in some cases, many more speed records, and is still the preferred base motorcycle for anyone currently looking to attempt a record on a lightly modified American machine.
In the fight to be called "America's motorcycle company," until 2011, it would have honestly been completely acceptable to pin that badge on Harley-Davidson. Since 2011, however, Indian has resumed the battle and are hitting all the targets set, so the war has resumed.
Harley Davidson History
Harley-Davidson produces perhaps the most famous and coveted motorcycles in the world. But do you know where the legendary American company began?
Where Did It All Start?

This story began at the very beginning of the twentieth century. In Milwaukee (Wisconsin), there lived an unknown young man. He was an apprentice draftsman in one of the local companies, and before that, he managed to work at a bicycle factory. The guy had no education, but he had certain talents and a love of technology. In 1901, the self-taught man developed his own engine design for installation on a bicycle. The engine had a volume of 115 cubic centimeters. It took two years to bring the project to life.
The young inventor assembled a bicycle with a motor together with his childhood friend and his brother. It is noteworthy that this friend was inspired to build a miracle of technology by a hobby: he loved to fish in remote and remote places, and he wanted to create a bicycle that would allow him to get there without tedious pedaling. The work was carried out in a garage and in someone else's. None of my friends had their own. The draftsman's apprentice was named William Harley, and his angler friend was Arthur Davidson.
So, in 1903, a bicycle with a Harley and Davidson motor was born, and it was a real … no, not a success, but a failure. The motor actually turned out to be very weak, and the whole structure could not even climb a not-very-steep hill. Or rather, she could get up, but only with the help of pedals. But to go there on your own – no. But the friends didn't stop there. Moreover, it was decided to find his own company and start creating real full-fledged motorcycles.
Harley Davidson Logo History

The Harley-Davidson logo is one of the most iconic and recognized logos in the world. The company has a long and storied history, and the logo has been a part of that history from the beginning. The original logo was designed by co-founder William S. Harley in 1901. It featured a simple, hand-drawn script that said "Harley-Davidson Motor Company, Milwaukee, Wisconsin." The logo has undergone a few changes over the years, but the basic design has remained the same.
Harley Davidson Engine History

The first Harley-Davidson had a 405 cc engine. Despite the "shed" production, it was distinguished by a tubular frame of the advanced design at that time.
The company has completed the new Eagle Milwaukee Eight 131 Crate engine. The unit is now the most powerful V-twin in the brand's history. The 2147 cc engine reportedly produces 123 hp and 178 Nm of torque.
The First "Harley"

The first sample of the motorcycle was ready on September 8, 1904. On the same day, he took part in a small local motorcycle race. At the beginning of 1905, Harley-Davidson engines appeared on sale. And in April, ready-made motorcycles began to be sold.
World Success

The following year the friends built a new motorcycle factory. It was a wooden building measuring 18 by 12 meters. Anyway, in 1906, fifty motorcycles were already made there. By the way, the company's headquarters is located there now.
It began a stable and steady development. The number of motorcycles sold grew. In 1907, the first V-Twin engine with two cylinders appeared. The police started buying Harleys the same year. And already in 1914, the company Harley-Davidson became the leading manufacturer of motorcycles in the United States and, after another six years – in the world.
Future Plans

Needless to say, Harley-Davidson has long been a cult company. Since its foundation, it has produced many legendary motorcycle models. In addition, other products addressed to its connoisseurs are also produced under this brand – from clothing to furniture. For someone, the Harley has become a dream, for someone – a way of life, and for someone – the personification of freedom. And it all started in the barn.
The brand intends to improve the quality of its bikes further and is actively investing in the development of new ones. Harley-Davidson actively balances the preservation of tradition with the inclusion of innovation in its motorcycles.
Reasons Why Indian Motorcycle Is Good
There are many reasons to love Indian Motorcycles. If you're in the market for a new motorcycle, you may be wondering if an Indian motorcycle is a right choice for you. Here are four reasons why an Indian motorcycle could be the perfect fit:
Durability

Indian Motorcycle reliability is the hallmark of the company. Here we are talking about the many years of quality history of the entire range of models, not any individual motorcycle.
Design

Motorcycles offer a unique and stylish look. The company has managed to create its own individual style, which is not similar to the others. On the contrary, as time went by, other manufacturers were looking up to Indian Motorcycle's design and technical solutions.
Wide range of models

Indian motorcycles are available in a variety of models to suit your needs. The wide range of models allows you to occupy a large part of the market and increase your fan base.
Features

Motorcycles come with a host of features and benefits that make them a great choice for riders. Indian motorcycles are one of the leaders and those who break new ground in motorcycle construction.
Conclusion
Harley Davidson and Indian Motorcycle are two of the most popular motorcycle brands in the United States. Both brands have a long history, with Harley Davidson being founded in 1903 and Indian Motorcycle being founded in 1901. Both brands have a loyal following of riders, and both brands offer a wide range of motorcycles to choose from.
So, who is better? Harley vs Indian Motorcycle?
It depends on what you are looking for in a motorcycle. If you are looking for a bike that is stylish and cool, then Harley Davidson is probably the better choice. If you are looking for a motorcycle that is powerful and fast, then Indian Motorcycle is probably the better choice.
Both Harley Davidson and Indian Motorcycle offer a wide range of motorcycles, so it is important to test ride both brands before making a decision. Ultimately, the best motorcycle for you is the one that fits your riding style and needs.
Which Company Objectively Makes the Better Bike?
We realize and accept that this is a very touchy subject, which is why we are not going to focus on anything but the specifications. This is very much an "on paper" comparison, using numbers that don't care if one bike or the other looks better, or has more spirit and passion rumbling through its handlebars.
The first category to look at is the standard cruiser. Harley-Davidson brings the Forty-Eight forward, while Indian brings one of their most popular models, the Scout, to the battlefield. With roughly the same sized engines, 73 ci in the Forty-Eight and 69 ci in the Scout, and with just about the same full wet weight, 556 lbs for the Forty-Eight and 561 lbs for the Scout, these are about as evenly matched as any two bikes out there.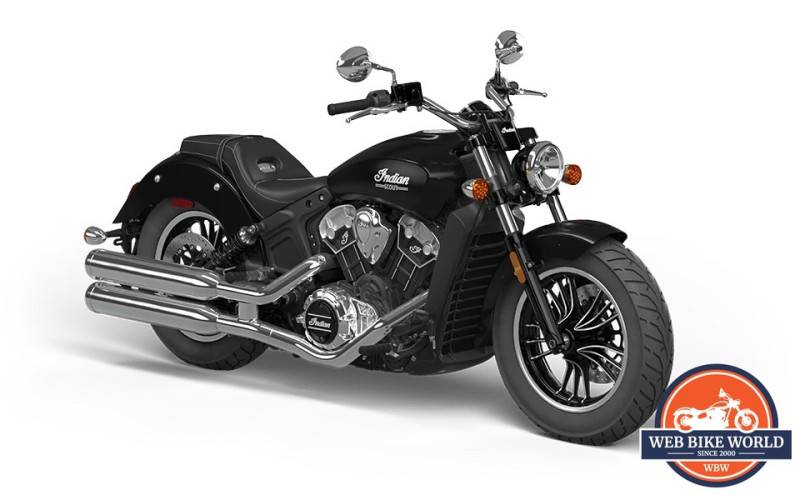 2022 Indian Scout. Image from webBikeWorld
What is surprising, then, is that the Indian Scout ends up being significantly more powerful than the Forty-Eight. Even though the difference in displacement is only 4 cubic inches, the Scout's powerplant produces 100 HP and 72 lb-ft of torque. By comparison, the Evolution engine in the Forty-Eight produces 66 HP and 70 lb-ft.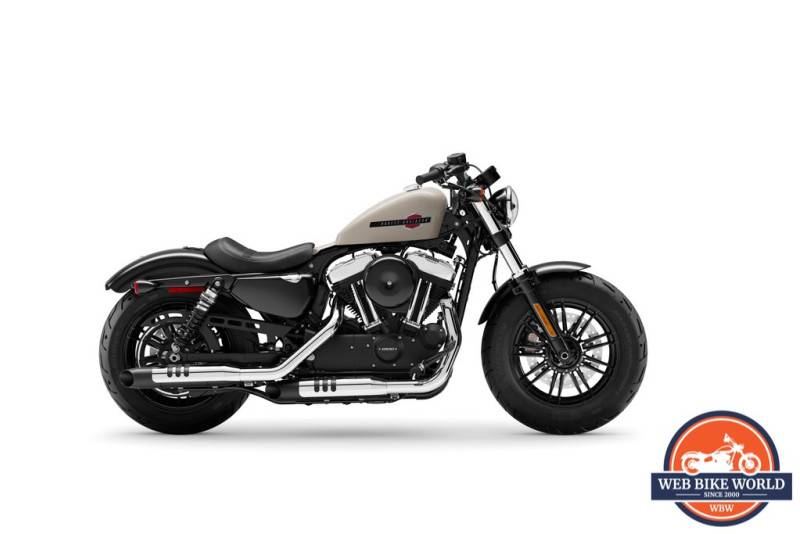 2022 Harley-Davidson Forty-Eight. Image from webBikeWorld
Those 34 HP in difference are where, objectively, the Indian Scout comes off as the preferred bike, especially when the weight of each bike is 5 lbs apart. However, that is countered by the base price of each model, as the Forty-Eight comes in at $12,299 compared to the Scout at $13,240. If you, as a rider, want those extra 34 HP, at the very least you are paying $950 for them, or just under $28 per HP.
This speaks to Indian's historical aim to produce a faster, more powerful bike, despite both motorcycles being firmly entrenched in the Cruiser segment. The Scout is more powerful, but you do have to open the wallet to get that power.
The next category to investigate is where Harley-Davidson has really focused their attention over the past few decades: the Touring motorcycle. For this, let us take the bikes that are the most similar from each brand, namely the Harley-Davidson Road King, and Indian Super Chief.
See also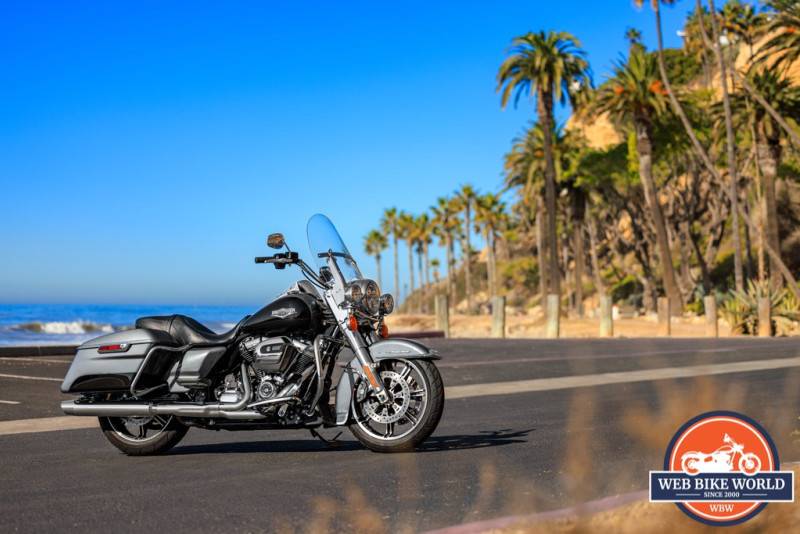 2022 Harley-Davidson Road King. Image via webBikeWorld
These bikes are nearly identical in their engine sizes, weight, and looks, with the tall touring windscreen and saddlebags at the rear. The Road King brings a 107 ci Milwaukee-Eight V-twin, in a bike weighing 828 lbs fully wet. The Super Chief brings one more ci, at 108 ci for its Thunderstroke V-Twin, and has a wet weight of 740 lbs.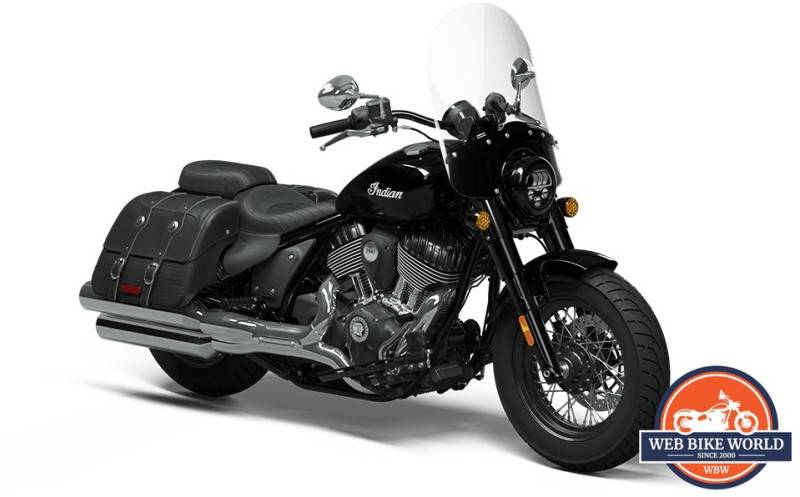 2022 Indian Super Chief. Image from webBikeWorld
The two are exactly $930 apart, with the Road King this time taking the spot of being more expensive at $19,929 compared to the Super Chief at $18,999. The surprise of the spec sheets, however, comes in that the Road King produces 111 lb-ft of torque, compared to the Super Chief at 108 lb-ft.
This one requires some math to be completely objective, requiring us to look at the amount of torque provided compared to the wet weight of the motorcycle. The Road King provides 1 lb-ft of torque for every 7.5 lbs of motorcycle, while the Super Chief provides 1 lb-ft of torque for every 6.9 lbs of motorcycle. The Indian, objectively, is the more powerful motorcycle, but 9.6 ounces per 1 lb-ft of torque is literally the weight of a US cup of water, so it is fair to call this one a draw.
It is much the same across all the comparable models, with the exception that Indian also provides a sport-naked motorcycle in the FTR 1200, and Harley-Davidson provides an adventure bike in the Pan-American. Apples-to-apples, Indian is either majorly or minorly more powerful than the equivalent Harley-Davidson, but, as stated at the start of this article, the fanbase for each side is extremely subjective.
Reasons Why Harley Davidson Is Good
Harley Davidson is an iconic American motorcycle brand with a rich history. The company has been around for over a century and has a strong following of loyal fans. There are many reasons why Harley Davidson is a good choice for a motorcycle.
Quality

Harley Davidson bikes are known for their quality and durability. The bikes are built to last and can handle a lot of abuse. They are also known for their comfort and ease of riding. Harley Davidson motorcycles are available in a wide range of styles to suit any rider.
Accessories

The company offers a wide range of accessories and clothing that are perfect for motorcycle riders. Harley Davidson also has a strong commitment to safety and offers a variety of safety features on their motorcycles.
Investments

Harley-Davidson motorcycles are a great investment. The bikes hold their value well and can be passed down through generations. Harley Davidson also offers a wide range of financing options to make buying a motorcycle more affordable.
There are many reasons to consider Harley Davidson when shopping for a motorcycle. The bikes are well-made, and comfortable, and offer a wide range of styles and sizes. The company also offers a variety of financing options.
The Future: Will Peace Ever Be Achieved?
On the face of it, that is an extremely complicated question. Both companies have had multiple highs and extreme lows in their history. Indian changed hands like a hot potato, while Harley-Davidson lost its way through much of the 80s, 90s, and 2000s as they simply could not decide where to focus their attention.
Both companies are much more on the straight and narrow now, with Harley-Davidson realizing that its target audience needs to be younger and taking a very positive attitude towards embracing electrification with the LiveWire brand. Indian, since 2011, has been owned by Polaris Inc, well known for their off-road, snow, and watercraft vehicles, which have a proven track record of reliability and value-for-money.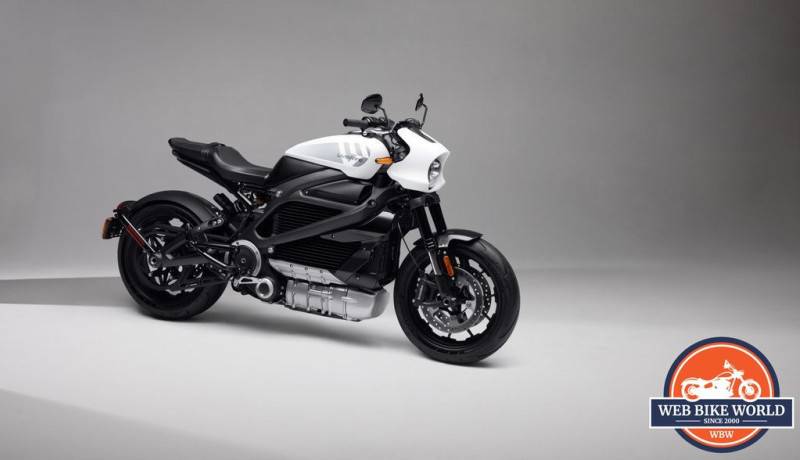 2022 Harley-Davidson Livewire One. Image from webBikeWorld
We honestly think that once electric bikes become much more of a standard thing, likely by 2030 or thereabouts, the war will start a new chapter. What could be an olive branch, however, is what recently happened this year between the Big Four Japanese brands when they agreed to share swappable battery technology with each other for their scooters and light motorcycles. With battery technology proceeding at a relatively breakneck pace right now, if the two could sit down at the negotiating table and hammer out a shared charging or battery swap agreement, that could be the first step to peace.
Indian Motorcycle History
Not everyone knows, but Indian is the first motorcycle manufacturing company in the USA, and it is she who is the founder of traditions and the main competitor of Harley-Davidson.
It is not difficult to make a portrait of the owner of an Indian motorcycle: freedom-loving, bright, bold, and open to everything new, able to appreciate the classics. And the proud profile of a native Indian on a shiny body is like the final touch and, at the same time, a sign of strength. But let's take it in order.
Pioneers of Motorcycle Building

Without a bright dream and a person devoted to it, the world of Indian motorcycles would not have. The fact is that George Handy, one of the founders of the company, was a famous cyclist and his bicycle manufacturing business was not just a job but rather the whole meaning of life.
He invested his strength, talent, and dreams in the development of bicycles of the future. Around the same time, resourceful engineer Oscar Hedstrom also invested heavily in a motorcycle of his own design, and George Hendy became interested in his drawings. In 1901, in a friendly partnership of two enthusiasts in the city of Springfield (USA), the first Indian Single appeared.
Then the Indian motorcycles became a real breakthrough: firstly, they were the first American motorcycles (Harley-Davidson would appear two years later), and secondly, they had an original design – a chain transmission from the engine and onto the wheel.
Indian Motorcycle Logo History

The Indian Motorcycle logo has a long and storied history dating back to the early days of the company. The original logo was designed by founder George M. Hendee in 1901 and featured a simple yet elegant, Native American chief in profile. This logo would go on to become one of the most recognized and iconic logos in the history of American motorcycling.
Over the years, the Indian Motorcycle logo would undergo several changes, but the Native American chief motif would remain a constant. In the 1950s, the company logo was modernized and streamlined but still retained the chief in profile. In the early 21st century, the Indian Motorcycle logo would be given a more three-dimensional look, but the chief in profile remained.
Today, the Indian Motorcycle logo symbolizes one of America's most historic and iconic motorcycle brands. It's a logo that has undergone many changes over the years but has always retained its original meaning and purpose.
Indian Motorcycle Engine History

Of course, the first Indian at first was very similar to bicycles, but at the same time, they already had a single-cylinder engine with a volume of 260 cm3 and a power of 1.75 hp.
The founders of the company tried to bring something new all the time, and in 1904, Indian motorcycles began to come off the assembly line exclusively in red, which became the highlight of the brand.
Sales are constantly growing, designers continue to refine models, and soon there will be a new racing version of motorcycles with a V-shaped engine with two cylinders and a one-liter volume, and two years later, a "civilian" series will already appear – with a clutch handle and a more modest engine capacity – 633 cm3.